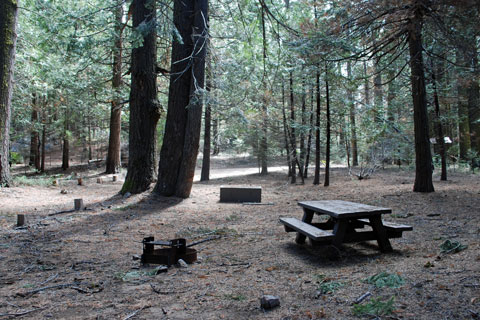 High Sierra Lakes Attractions
Southern California Edison Company operates a number of lakes as part of its hydroelectric facilities. These lakes provide wonderful opportunities for outdoor recreation. Among the lakes are Florence Lake, Lake Thomas A. Edison, Huntington Lake, and Shaver Lake. Those who are staying at Swanson Meadow Campground near Shaver Lake are close to many area attractions.
Drive out to visit all of the beautiful mountain lakes in the area:
Head over Kaiser Pass to Mono Hot Springs Resort for a relaxing soak in the natural hot springs. Also get a meal at their cafe.
Have fun 4-wheeling at Hooper Diversion Dam OHV area, Onion Springs, Red Mountain, or Bear Diversion Dam.
Take a trail ride with D & F Pack Station at Huntington Lake or Shaver Stable at Shaver Lake, or take an extended pack trip with High Sierra Pack Station at Lake Thomas A. Edison.
Visit China Peak for scenic chair lift rides, mountain biking, disc golf, and more.
Take the drive to beautiful McKinley Grove of Giant Sequoias.
Key Swanson Meadow Campground Regulations
Quiet time extends from 10:00 PM to 7:00 AM.
Fires must be confined to the provided fire pits.
To avoid bringing in invasive pests, outside firewood is not permitted. Obtain firewood locally.
Nearby Campgrounds
Shaver Lake
Dinkey Creek
Huntington Lake
Millerton Lake
Kerckhoff Reservoir

Swanson Meadow Campground
Swanson Meadow Campground is about 3 miles from Shaver Lake in the Sierra National Forest. The small campground provides a quieter alternative to the much larger and busier campgrounds along the west shore of the lake. Swanson Meadow Campground is only a short drive from all the popular activities around Shaver Lake, including fishing, waterskiing, wakeboarding, swimming, hiking, kayaking, and picnicking. A nearby road that circumnavigates the lake provides access to good swimming areas on the lake's east shore.
Swanson Meadow Campground has 10 campsites deep among the trees. Some sites are doubles. Campsites are well spread apart and shaded by a mature conifer forest.