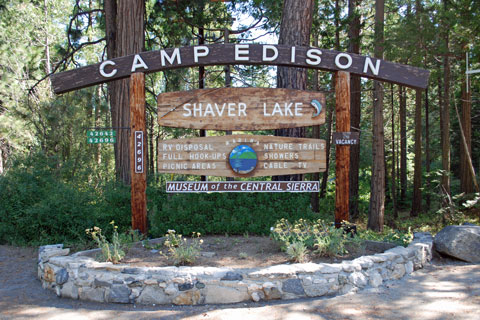 High Sierra Lakes Attractions
Southern California Edison Company operates a series of lakes which provide wonderful opportunities for outdoor recreation. Among the lakes are Lake Thomas A. Edison, Florence Lake, Huntington Lake, and Shaver Lake. Those who are staying at Camp Edison are on the shores of a beautiful mountain lake with a variety of recreation available.
Take time to visit all of the beautiful mountain lakes in the area:
Spend a relaxing day at Mono Hot Springs Resort with natural hot springs, lodging, and cafe.
Go 4-wheeling at Hooper Diversion Dam OHV area, Onion Springs, Red Mountain, or Bear Diversion Dam.
Set out on a trail ride with D & F Pack Station at Huntington Lake or Shaver Stable at Shaver Lake, or take an extended pack trip with High Sierra Pack Station at Lake Thomas A. Edison.
Visit China Peak for scenic chair lift rides, mountain biking, disc golf, and more.
Visit the beautiful McKinley Grove of Giant Sequoias.
Key Camp Edison Regulations
Washing dishes or pets in the restrooms or laundromats is not permitted.
Fires are permitted in fire rings only. Rings are not to be moved.
Quiet time is from 10:00 PM to 7:00 AM.
To avoid bringing in invasive pests, outside firewood is not permitted. Obtain firewood locally.
Nearby Campgrounds
Shaver Lake
Huntington Lake
Dinkey Creek
Millerton Lake
Kerckhoff Reservoir

Camp Edison
Camp Edison at Shaver Lake in the Sierra National Forest is one of the most popular campgrounds in California. The campground is operated by the Southern California Edison Company. Located on the shore of Shaver Lake, Camp Edison provides visitors access to all the natural wonders of the area along with the amenities of the Shaver Lake community. Popular activities include fishing, waterskiing, wakeboarding, swimming, hiking, kayaking, and picnicking.
Note: For safety and forest health reasons, Camp Edison has been removing insect infested trees. Some campsites have more sun exposure than currently described in campsite details.
Camp Edison offers more than 250 campsites at its campground spread around about a dozen loops overlooking the lake. Most campsites are set a short distance back from the lake, but a few, such as those on the Elderberry Loop, are close to the water. Some sites have lake views, while a large number rest in a mature conifer forest. Camp Edison also has a number of Group Campsites.
Camp Edison Amenities
Amenities at every Campsite:
Picnic tables, grills, campfire rings, electricity, cable TV
Full Hook-up Campsites:
Full and partial hook-up sites available
Campground:
Restrooms with flush toilets, piped water, amphitheater, laundromat
WiFi:
Available in campsites 133-252 and at the Information Center (fee)
Camp Edison Website:
Camp Edison
Showers:
Yes
Dump Station:
Honey Wagon (fee)
Attractions near Camp Edison:
Enjoy the swimming and convenient boat launch ramps. Rent boats at Shaver Lake Marina. Find fish cleaning stations nearby. Play sports such as volleyball, basketball, and horseshoes. Drive the short distance to Sierra Marina for more boat rental choices. Set out into the forest hiking trails or horseback riding.
1 A camping unit is defined as a "cab over camper and towed vehicle, or motorhome and towed vehicle, or one vehicle and trailer (5th wheel, travel trailer, tent trailer or utility trailer with camping gear), or two vehicles with tent gear only."
Camp Edison Group Campsites
Camp Edison has 11 group campsites, designated A - K.
Group Campsite
Max. People
Max. Vehicles
Fee per Night*
A
60
18
$370
B
32
10
$195
C
60
18
$355
D
25
6
$145
E
18
6
$200
F
60
15
$370
G
30
9
$195
H
40
12
$260
I
30
9
$200
J
(2 electric and cable TV hook-ups)
24
8
$180
K
(2 electric and cable TV hook-ups)
18
5
$140
*Prices subject to change.