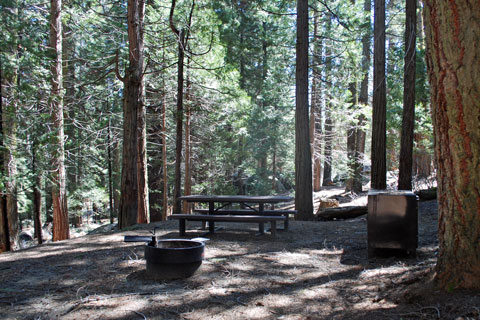 High Sierra Lakes Attractions
Southern California Edison Company operates a number of mountain lakes as part of its hydroelectric facilities. These lakes provide wonderful opportunities for outdoor recreation. Among the lakes are Florence Lake, Lake Thomas A. Edison, Huntington Lake, and Shaver Lake. Those who are staying at Dorabelle Campground at Shaver Lake have a variety of excellent recreation opportunities.
As beautiful as Shaver Lake is, take time to visit all of the beautiful mountain lakes in the area:
Drive over to Mono Hot Springs Resort for a relaxing soak in the natural hot springs. Also get a meal at their cafe.
Head out 4-wheeling at Hooper Diversion Dam OHV area, Onion Springs, Red Mountain, or Bear Diversion Dam.
Enjoy a trail ride with D & F Pack Station at Huntington Lake or Shaver Stable at Shaver Lake, or take an extended pack trip with High Sierra Pack Station at Lake Thomas A. Edison.
Stop in at China Peak for scenic chair lift rides, mountain biking, disc golf, and more.
Make the drive to beautiful McKinley Grove of Giant Sequoias.
Key Dorabelle Campground Regulations
Fires must be confined to the provided fire pit.
Quiet time is from 10:00 PM to 7:00 AM.
To avoid bringing in invasive pests, outside firewood is not permitted. Obtain firewood locally.
Nearby Campgrounds
Shaver Lake
Dinkey Creek
Huntington Lake
Millerton Lake
Kerckhoff Reservoir

Dorabelle Campground
Recently reconstructed (2014), Dorabelle Campground is on the west shore of Shaver Lake in the Sierra National Forest. The campground is about 2 miles from Camp Edison and only ½ mile from the community of Shaver Lake. Shaver Lake is a very popular recreation area with fishing, boating, waterskiing, jet skiing, hiking, swimming, and picnicking.
Dorabelle Campground has 61 campsites. Nineteen of the sites are designated as tent-only; the others can accommodate RVs, trailers, and tents. Many campsites are shaded by mature conifers while others are more open to the sun. Some campsites have views of the lake. Boats can be moored nearby.
There is a minimum 2-night stay at Dorabelle Campground on weekends and 3 nights on holiday weekends. Nearly ⅓ of the campsites are wheelchair accessible, but these campsites are open to others if no other campsites are available.