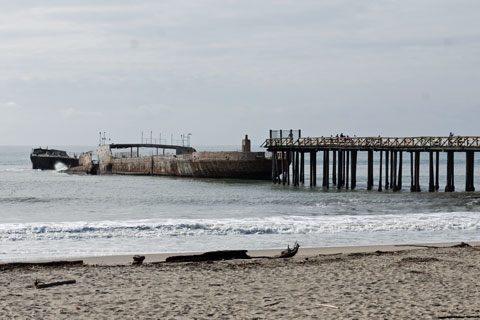 Santa Cruz - Monterey Beach Attractions
The Santa Cruz and Monterey coast attracts visitors from far and wide. From great surfing around Santa Cruz to the wild and scenic Big Sur coast, there is so much to see and do. Campers at Seacliff State Beach Campground have a wonderful ocean view.
For wildlife and scenery, Point Lobos State Park leads the list. There are also many more wonders to be enjoyed all the way down the Big Sur coast.
Attend the Begonia Festival on Labor Day weekend at Capitola Beach.
Surfing is popular at Santa Cruz's famous Steamer Lane as well as to the south at Carmel.
Excellent pier fishing can be enjoyed at Santa Cruz's well-developed wharf as well as at the Capitola's pier and the popular Seacliff Beach pier.
Visit beautiful Sand Dollar Beach and Jade Cove.
Enjoy the beauty of the waterfall at Julia Pfeiffer Burns State Park.
See the green sand and the spectacular rocks at Pfeiffer Beach.
Key Seacliff State Beach Campground Regulations
A self-contained vehicle contains permanent working plumbing fixtures, flushable toilets, and a sealed effluent holding tank.
Do not feed or leave food out for wildlife.
Dogs are not permitted on the beach. In the campground they must be on leash and attended at all times.
Generators may only be used from 10 AM to 8 PM.
No effluent, gray or fresh water may be discharged onto the ground.
For safety, stay on the hiking trails as the bluff walls are steep.
Nearby Campgrounds
Santa Cruz County
Santa Clara County
Monterey County
San Benito County
Seacliff State Beach Campground
Seacliff State Beach is one of the most popular beaches in Santa Cruz County. With a reputation for gentle surf and great facilities for beach-goers, summer weekends usually see the parking lots full. A popular attraction is the pier which once connected to an old concrete ship beached there in 1929. During the 2017 winter the ship broke into pieces and the pier was damaged. After repairs are made, the pier, which is a popular fishing spot, will reopen. On shore are great picnic areas, a snack shop, and a small Visitors Center.
Seacliff State Beach Campground is only for self-contained RVs and trailers. There is no tent camping. The 60 campsites are arranged in a single row along the edge of the sand, giving campers great views of the ocean from their RVs. Twenty-six of the sites at Seacliff State Beach Campground have full hook-ups. Each site usually has space for campers to set up a small table and a raised fire ring.
Reservations are accepted for most sites. However, a limited number of non-hook up campsites are sold by lottery each day at 12:30 p.m. Prospective campers must be present with their RVs before noon to sign up for the lottery. Any remaining campsites will be first-come, first-served.